My name is Jolande Maria Penninks, I am a certified coach/counselor and alcohol addiction coach. I am also specialised in Negotiation, Mediation and Conflict Resolution. In 1988 I moved to the Algarve and have since lived partly in Portugal and the Netherlands. In 2018 I moved permanently to a place near Tavira in the south of Portugal.
About twenty-three years ago I started to delve more and more into spiritual growth, philosophy, quantum physics and lately in epigenetics. In addition to various studies I have had the opportunity to meet traditional and modern teachers who still inspire me today.
I am a devoted yogi who loves people and animals and was initiated in 1999 in Yogaville by Swami Satchidananda(the Woodstock Guru) as an Integral Yoga Teacher. Yoga has become a way of life for me. I like to help others with the physical part and breathing in addition to the psychological aspect.
On the basis of respect and equality, after all, we are all one, I can also teach you how to be happy despite whatever happens in your life. I give you the handles and sometimes some exercises so that you get back into the vibration of who you are meant to be.
Pure and positive, that's how we were born and you too have that power to be happy. Change your life and do it NOW. You can start over every day!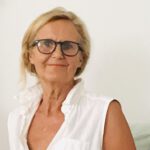 Sincerely yours,
Jolande